We take banking personally and enjoy being part of our communities.




On Saturday, May 20, 2023 Cayuga Lake National Bank, in partnership
with Cornell Cooperative Extension (CCE) of Cayuga County,
celebrated World Bee Day at our Union Springs branch
with a variety of family-friendly free activities! Click for more details.                      ____________________________________________________

           

Cayuga Lake National Bank Honors 54 Students at First Bee You Awards Event Lansing Student Wins $1,000 Grand Prize
UNION SPRINGS, NY, April 25, 2023- On April 18, Cayuga Lake National Bank (CLNB), in partnership with ESPN Ithaca Radio, recognized 54 local students as recipients of the first annual Bee You Awards at Wells College. The winners of the brand-new awards were nominated by educators, family members, and other community individuals for their exceptional acts of leadership, kindness, and community service. Lansing Central School District Junior Aurora Jones was randomly selected as the grand prize winner of $1,000.
The Bee You Awards were created to highlight students from Lansing Central School District, Union Springs School District, Moravia Central School District, and Southern Cayuga School District who have positively impacted their peers and community.
For the complete list of winners, please click here
The winners of the first Bee You Awards were honored for exhibiting  one or more of the following characteristics
                                Motivation * Kindness * Compassion * Dedication * Empathy                                                                                             * Leadership * Authenticity * Bravery
Kelly Wade, President & CEO of CLNB, stated, "We shared an incredible evening with these wonderful youth leaders and their families. I am thrilled with the positive response from the schools and communities for our very first Bee You Award. Thank you to all of our partners and supporters, those who took the time to nominate these incredible students, and those who joined us last week." Wade added, "We are so extremely proud of these students. It was a pleasure recognizing this outstanding group and I look forward to next year's event!"

Vizella Media, which owns ESPN Ithaca radio, President & Publisher Todd Mallinson said, "We are really proud of our partnership with CLNB and the Bee You Awards. It has been a pleasure recognizing these incredible students and the positive qualities they demonstrate at school and in their communities." Mallinson added, "On behalf of the ESPN Ithaca team, congratulations to these exceptional students."
                         ____________________________________________________
 The Hive Flyer Award is given to a CLNB employee who exhibits hard 

work and dedication every day, but is deserving of special recognition for going above and beyond. Someone who embodies our motto - Customer focused. Community Minded. 
     If you'd like to nominate a CLNB employee, please fill out the form below and email it to kbrown@cayugalakenationalbank.com  or drop it off at any CLNB location. You'll also find forms in every branch.
    HIVE FLYER RECIPIENTS FIRST QUARTER 2023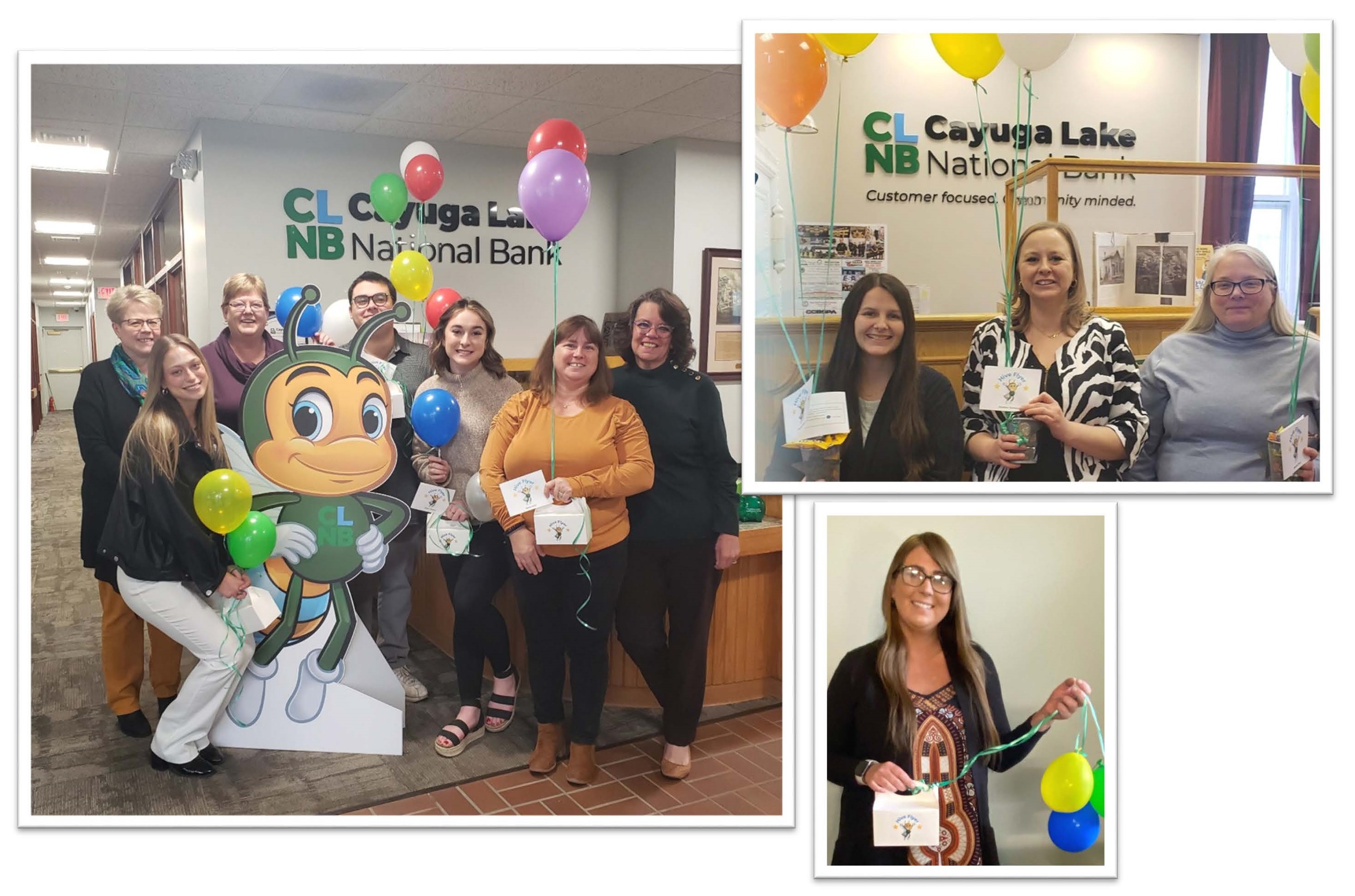 _________________________________________________________



"Jeans Day"    
     Once a month, each CLNB employee is given the opportunity to choose a charity near and dear to their heart. Every Friday bank employees can wear jeans for a donation of $5. All money raised that month is then donated to that group.
     Some of the beneficiaries: Ruari Sparkle, Milly's Mission, St. Baldrick's Foundation, Matthew House, United Way, Hematology Oncology Association, Cayuga County SCAT Van, East Coast Adoption, Lansing Boosters, Nick's Ride 4 Life, Friendship Donationa Network, Healing H'Arts, and Tompkins County SPCA, ...just to name a few.
                 

      


              _________________________________________________________


Finger Lakes Mud Run
     Since 2015 CLNB has had a team participate in the FLX Mud Run, an outdoor challenge course of 25 different obstacles, most of them muddy, spanning 5 miles located on the beautiful grounds of Everest Park in Auburn, NY. 
     The net profits from the Run are used to help sustain Champions for Life, which operates Everest Park and the Brian Bisgrove Home of Courage.
     CLNB is proud to be a major sponsor of the FLX Mud Run!